CLICK HERE TO SIGN UP!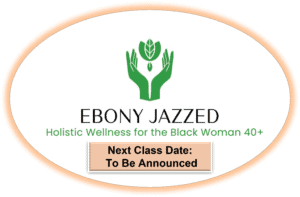 How This Course Benefits You
The confidential, safe space of the Ebony Jazzed session could enable you to discover within yourself an increased awareness of:
Simple things you could do to improve your life right now

Self-sabotaging or defeatist thoughts or behaviors and the strength to overcome them

Underlying beliefs that have held you back but will no longer control you

Daily miracles and gifts you often overlook so you can experience joy from them

Techniques and processes to achieve greater mind-body balance

Stress reduction methods that really work

Creative ways to invite prosperity into your life

Ways to create energy that magnetically attracts more or better-quality relationships. Soulmates do exist!
Ebony Jazzed Wellness Course
Are you ready to sign up for a life lived with purpose, passion, health, hope, and vitality?
Previously recorded interview on Instagram by Host Sri Mahabir.
Ebony Jazzed is a small, intimate class, conveniently taught on Zoom, for black women 40+.
It focuses on the mind-body-heart-soul wellness of the whole person.
These sessions are for women who want a life that's open to new possibilities, miracles, and much more than just an okay life. They want the respect, acknowledgment, and encouragement they deserve.
Duration: 4 weeks. 4 Zoom classes of 2 hours each with assignments in between and a celebration at the end of the 4th week.
To access an easy-to-understand course summary with links for the signup payment option and application form:
I am a holistic health and wellness coach, speaker, and writer who specializes in topics of specific interest to black women 40+.
I get what you go through and love celebrating your triumphs.
When we learn to nurture ourselves and each other through wellness and awareness techniques, we promote our personal health, happiness, and fulfillment.
In other words, let's replace a lot of that pain and frustration with more joy! God wants us to be happy.
Don't Wait | Classes fill fast
Rather Chat First? Fill Out Form Below